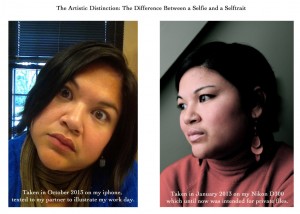 I'm not up in arms over Jezebel's latest debacle calling "selfies" nothing but a degrading digital act of vanity, making people focus on beauty and nothing else.
As a writer and photographer, I woefully disagree.  The beauty about photography, and why it pairs so elegantly with writing, is it's wordless power to share truth.  It generates engagement through image so words aren't necessary.  For me, it's not about waving your techie arms for attention, but a manifestation of one's creative lens.  Why should we not document ourselves?  As a photographer, I rarely let anyone use my camera, which means I have few photos of myself.
Taking selftraits can be a meditative look into one's soul.  It conjures emotion, memory, and documents who we were at one moment in our fleeting dust of our lives.  Categorizing "selfies" as nothing but cheap uploads may be the trend, but selftraits have been going on throughout history.  Writing one's story, photographing one's body or face?  These are tactics of survival, annotation, so we are remembered on our own terms.
There's a difference between these photos.  Even without the explanation, I think it's clear what's what.