Archive for category Isaiah
Tweet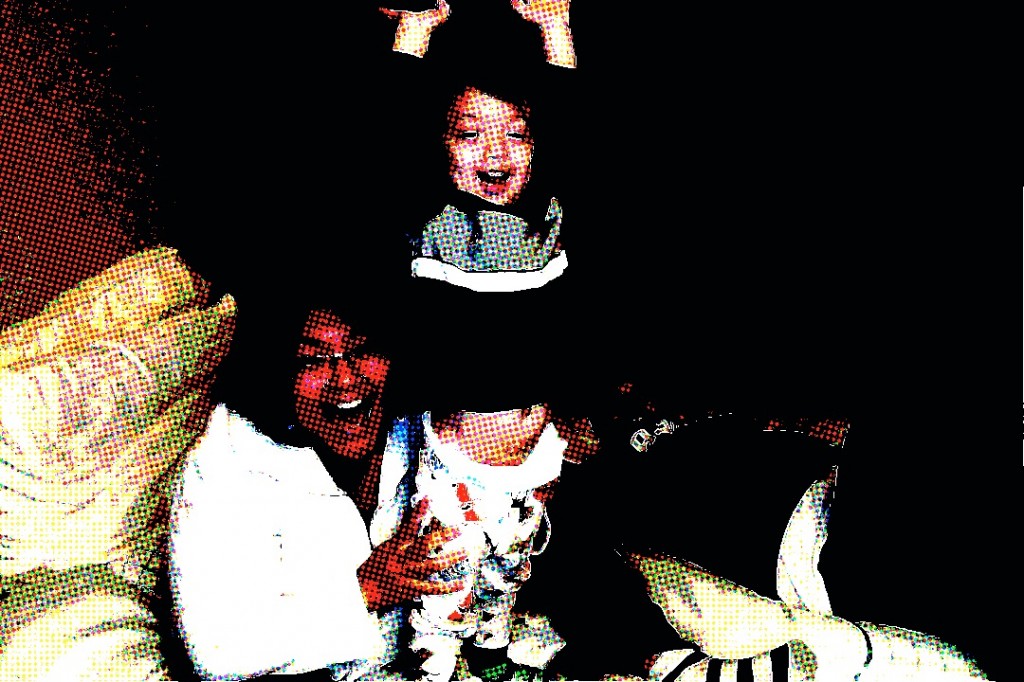 It's Friday and there's no better picture to accurately depict the Friday relief and excitement than this cartoony picture of Isaiah.
A few nights ago, we were playing with the different features of my Christmas gift – our new computer – and Isaiah got pretty excited over the different scenes and tones the pictures can be set in.  This overly exposed scene was his favorite.  He looks how I feel inside: YES!  I got through another week of work, parenting, surviving another week of winter, and listening to the Republican debates!  I DID IT!  GO ME!
Watching Isaiah grow into his own person is such a paradoxical experience.  He is most certainly his own self, that is clear.  And he says things like, "Isaiah do it." Meaning, "HANDS OFF MOM.  I CAN BRUSH MY OWN TEETH." Or "Forget your hand, Dad, I know what a railing is!"
But the majority of things he says are mimicking what's around him, especially language.  Just yesterday, he asked to watch a Muppet video on YouTube and when the link was a little slow, I fussed around with the mouse and before the electricity from my brain sent the message to move my tongue to say the words, Isaiah sighs, "Come on, come on, COME ON!" I looked at him strangely.  Yeah, I guess I say that a lot when the internet takes forever.  (Forever: 39 seconds)
Toddlers are walking mirrors and sponges and it FREAKS ME OUT that they learn instantaneously when and how to repeat something in an appropriate situation.  They can read the emotional situation and deliver the comment they heard, just like it was originally spoken.  So, yeah, he's his own person – he's got his organs, preferences, room – but everything he DOES reflects me or Nick to some extent.  Now that's some scary shit right there.  Seeing myself in a 2 year old?  S-C-A-R-Y.
But it's a joy.  JOY.  And that's an unexpected part of parenting that I wasn't counting on: the joy!  The little things.  I was changing him after a nap and I asked how his day was going thus far at 5pm and he goes, "Oh, I just love it."  A few hours later, he picked up an empty gatorade bottle and says, "Recycle."  And then he wore my high heels for 15 minutes while I cooked dinner.
JOY.
*D my therapist says to look into our current moment with as much passion and intensity as we look to the past and future.  If we all did this, we would relinquish control over the things we do not have power over or cannot change.  Be present, she says, to only what you can presently know and see.
What I know and see is how fast 2 years of my life has gone with Isaiah.  In the blink of an eye and in the swift move of parenting amnesia (I can't remember what it was like to breastfeed or put him in a carrier), he's a little human asking for juice and crackers at night, wailing when I turn off the radio because it's time to say goodnight.  Just like that (snap of the fingers) his onuses are too tight, his pants are too short, and he's feeding himself with a fork and spoon.
Nick took the opportunity to clean out the basement this week (what a great guy, I'd never think to do that on my day off), and I was admiring his work, I saw all these baby toys, bottles, and paraphernalia were outgrew.  No more boppy pillow, no crib bumper, no walker.  Being a parent is so reactionary and immediate that it's hard to retain any memory of what you did before.  All you really know is how to do NOW.  And given D*'s advice about staying in the present, that relationship seems perfectly complimentary.
Be present.  In the blink of an eye, it'll be ten years from now with no memory of today.