Posts Tagged Asian-American
Tweet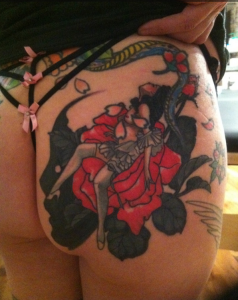 January is a war on our bodies. It's a war in so many ways. It's nestled right after a holiday speckled December, full of drink and food sprees, exit fall/begrudgingly hello winter, and January is there. Waiting. Regardless of the bleak gray sky, we wipe our mental boards clean and vow better habits, more living, less poor choices. And some take January and the promise of more living to declare war on their bodies. The dieting, restricting, cold turkey, no holds barred workouts.
It's no wonder the war is conceded by Valentine's Day. It's never sustainable.
Body consciousness is taking center stage.
I've been thinking about my body. A lot. Experience has told me that while there's a temptation to generalize that most women suffer from body hyper vigilance, I know that while the stressors are different, this vigilance very much includes men. Who DOESN'T think, criminalize, criticize, and punish their bodies in January? At the very least, most people take a hard look in the mirror and pick ourselves apart, one limb at a time.
So when I read THIS, a jarring response essay by the profane yet sensitive Margaret Cho about her history of body issues after she received horrid comments about her body and recently inked tattoos, I paused. She goes ape shit on two readers.
Things I could say should be left unheard and unsaid because I am not willing to be the bigger person. I do not take the high road. I take the low road and blows below the belt are my absolute favorite. The best revenge is not living well. The best revenge is revenge.
About 2% of me, all raised-eye brow and all, thinks, "Oh, Cho – c'mon. Don't take the low road."
And the 98% of me rejoiced. It was so refreshing, and honest. It was like the part of me that I am in a room with only the closest people I know; where you laugh too loudly at inappropriate things; where you say what needs to be said in whatever words find their way to your tongue without censoring. Dammit, she's honest. She's so honest about NOT taking the high road. Cho received staggering points from my respect bank simply because she's not one of these faux reputation, Tiger Woods family man/I'm actually "addicted" to sexing White women in dirty places facade. Cho claims nothing but herself, which includes CHOOSING to go below the belt.
I couldn't help but feel ghosts around me. Misty, clammy ghosts that appeared in the room and gently licked my skin, bringing me back to my 10, 14, 17, 23, year old self when words, hate, eye daggers and jokes were thrown at me because of my weight, my skin color, my heritage, my hair, my hairiness, my almond eyes. The ghosts were as real as ever. My breath caught and I suddenly was a little girl being told to go back to my own country. Being called every kind of word used to describe round and full. Then I was a teenager being told to only date my own. Own what? "YOUR own." Then a running, young woman with a car full of teenage boys speeding by yelling derogatory slurs. Then there was the eroticizing of my racial make up. And then, always, there is teasing. Relentless, torrential, acid rain on the tender skin of growing up girl.
I fly my flag of self-esteem for all those who have been told they were ugly and fat and hurt and shamed and violated and abused for the way they look and told time and time again that they were "different" and therefore unlovable.
The body is a war zone we grow up in. For those who are accepted as "normal" and capable, light skinned and perky, demure or graceful, it's a playground. But for those of us on the other side of the fence, it's a battleground. I was never beat as a POW, but there are scars reminding me that Cho is right. When those around you patrol and use your body for shooting practice, how are we not suppose to grow up defensive and use what we can for survival? I dismiss Cho's critics (or her lone "lost a fan" fan) who call her words too harsh and unnecessary.
How does one measure abrasive behavior when bound in a triggering and defensive situation? Why are we so quick to jump on those who defiantly take below the belt shots in defense when its clear the attack was unjustified? I think those who did not undergo hard times are quick with their high road lectures and low on understanding human psychology.
Being called ugly and fat and disgusting to look at from the time I could barely understand what the words meant has scarred me so deep inside that I have learned to hunt, stalk, claim, own and defend my own loveliness and my image of myself as stunningly gorgeous with a ruthlessness and a defensiveness that I fear for anyone who casually or jokingly questions it, as my anger and rage combined with my intense and fearsome command of words create insults meant to maim, kill and destroy.
If words are used to kill someone's spiritual and mental livelihood, it makes sense that their vitreous ego's defense is made of the same ammunition: words.
And call me a crazy Catholic, but I hear a spiritual knock on the door of Margaret Cho. There's something familiar about her beckoning injured birds to come to her for comfort.
I want to defend the children that we still are inside, the fragile sensitive souls who no matter how much we tried were still told we were not good enough. I want to make the world safe and better and happy for us. We deserve beauty, love, respect, admiration, kindness and compassion. If we don't get it, there will be hell to pay. I am no saint, but I am here for you and me. I am here for us, and I am doing the best I can.
I think there's a God, or Buddha, or Spirit, or Life, or Universe, or WHATEVER you want to call the deeper Source of our existence, there in her words; rising up to defend what she knows is rightfully true: our inner selves, fragile and uncertain, still need assurance and community.
I think that when we rise to defend ourselves, what was ugly turns into something divine. Perhaps divine, for some, is equated to some pristine, soft green mountain side with Julie Andrews twirling in mother nature. But for me, rising up to defend our humanity IS divinity. Cho self-stamps herself as damaged and gorgeous, not saintly. And there's something spring water refreshing about that. There's something cathartic and necessary about her uproarious defensiveness. It reminds me how acutely human we are at any time, whether on Twitter or working in a factory, or writing in a library. We, at any time, are so vulnerable to the thoughts and words of others that we cannot take each other for granted. We can no longer afford to assume that those around us are not tender. We cannot afford to assume that the memories of those we encounter are blemish-free. And we can no longer mislabel aggressive defense as aggression. Not for those who have been the cork board for thousands of pin jokes. Rising up for ourselves is not rude. It is not unstable. It is not crazy. You haven't truly lived until you defended yourself against pure spite. As
each one of us designs our path of connection to others, we also design our individualized plan of defense for self-preservation.
There's a time and a place for healthy and healing and bomb-like anger – which is different from the foul breath of negativity – just as there's a time and a place for the high road. When you learn the difference and know when to practice the former, it's become a rite of passage.
If you haven't yet defended yourself against unwarranted hatred, don't explain to others to take the high road.
If your body has not undergone physical violation or emotional trauma of harassment, do not assume you can locate and point to the high road.
If your life has not been used as a target for cheap funnies, hasty attempts for laughter at your expense, don't judge the response of the humiliated.
.
January is a declared war on our bodies. Let's start a revolution and wave a white flag. Wave it high, unfettered, and free. We surrender to no one but ourselves.
I grew up hard and am still hard and I don't care. I did not choose this face or this body and I have learned to live with it and love it and celebrate it and adorn it with tremendous drawings from the greatest artists in the world and I feel good and powerful like a nation that has never been free and now after many hard won victories is finally fucking free. I am beautiful and I am finally fucking free.
TweetI don't follow Miley Cyrus.
I don't like Miley Cyrus.
Today, when I saw that video,
I was reminded of the one
big fat reason why I ignore
teeny bopper Disney poison.
Racism.
There is reason why Miley and her
White Disney can imbrue the hearts
of young Asian girls and boys
and still sell their music.
Their eyes are shaped like almonds,
like slivers of the moon
or sideways rockets
or glitters of black diamonds.
Their young eyes are fully open
in Ways yours and mine never
will be again.
And the beat of racism sounds
today
like it has all the other days.
It drowns out anything else
that could be put to music
and sold.
TweetThe Vagina Monologues, written by Eve Ensler, is a popular conversation topic in February.It is a production that has sparked a larger movement: Vday.  Every year, February 14 is V-Day, a day marked to end violence against women, and thousands of productions take place across the world.  All proceeds benefit local sexual assault services and community organizations.
Eve Ensler has had her share of controversy and fame.  She is a well-known playwright who focuses on human rights and feminism on the global stage.  The Vagina Monologues, the biggest boom in her canon, catapulted her and V-day into the global spotlight as she coaxed hundreds of women to talk about their Vaginas and then turned it into a play based off of their testimony. As one can imagine, the play is not just about the anatomical gift of Vaginas, but about sexuality, relationships, violence, Self, and wonder.  The VMs also intermittingly spotlights an area of the world where Ensler eyes a particularly troubling trend of violence toward womyn.  Past spotlights have been on Juarez, Afghanistan, and Iraq.  Ten years have past since the first VM production and thousands of performances and millions of donated dollars later, it still raises as many eyebrows and questions as it does money.
While there is so much empowerment surrounding this particular movement, it's also interesting to
note its criticisms
and concerns.
  Every year, this time of year, I think of the VMs and contemplate its power, imperfections, and purpose.  I have participated in the Vagina Monologues twice; once to perform, the second as a director.  However, with more time and more Vdays to observe, I am once again brought to that unavoidable question that every activist, every feminist, every anti-violence human being must ask: What must be done to transform a rape culture to end violence against women?  
I'm not just talking about Filipinas.  I'm talking about everyBODY.  I'm talking about the New York womyn, to transfolks in Cambodia, to little girls in Argentina, to the womyn of New Orleans.  I'm talking everyBODY.  What needs to happen?  My answer comes from one of the questions that Eve Ensler asked every women interviewed for the Vagina Monologues, "If your vagina could speak, what would it say?"
Mine would say, "Considering the fact that the overwhelming majority of rapes come from men assaulting womyn, considering that womyn can do everything to in the name of prevention, education, and defense, considering that despite all these efforts to not live in fear and our resolve to live in a mentality of freedom…considering all these things, still today, nothing will stop my sisters from being raped except the men who rape them and the culture that feeds them."
My largest criticism of the Vagina Monologues, in regard to its efforts to end violence against women, is it fails to ask the bleeding question of how MEN will stop the violence against womyn. (While I do want to acknowledge same sex violence and assault, the primary assaults are men violating womyn.)  Why is it ALWAYS the Vagina Monologues and not the Vagina and Penis Dialogues Against Violence?  
I remain convinced that this global culture does more than permit the rape of womyn, it blankets the cries of incest and sexual violence in every corner of every country with its own politics, corruption, and silence.  Cue: Eve Ensler and Vday come marching in the door to trumpet its resolve to END VIOLENCE AGAINST WOMEN VIA VDAY!  Solidarity with womyn in other countries have led to media profiling international activists as saviors instead of recognizing local antidotes.  
The truth is that no one can walk through the doors of Juarez and transform its community except the womyn and men and children of Juarez.  No one will effectively teach any community from the outside of what needs to heal on the inside.  Every community needs resources, models, and hope, but as activists, we must, MUST, end the notion that solidarity across the globe for womyn alone will heal this epidemic.  (Prepare yourself for the following.) We need – gasp – men!  We need everyone if we are to truly rid ourselves of this disease that we routinely baste ourselves in when we forge alliances across oceans but stamp a V on our foreheads and then holler at the stars when only a handful of men join the movement.
Violence against women must (m)en/d. 
And so I ask, "What would your vagina or penis say if it could talk?"